Introduction:
In today's digital age, where screen capture tools have become indispensable, the ability to capture screenshots and record screen activities has transformed our online experiences. Whether you're a professional seeking seamless presentations, an educator aiming to enhance learning, or simply someone who enjoys sharing information with others, having reliable and user-friendly screen capture tools is paramount. In this blog post, we will introduce you to five impressive web tools: SnapIt, Screenzy, Pika.style, and Screenshot.rocks. These innovative platforms offer a plethora of unique features and functionalities, catering to a wide range of screen capture needs. Get ready to unlock the full potential of your screen capture endeavors with these cutting-edge tools.
SnapIt is a versatile web tool that allows users to capture screenshots effortlessly. Whether you need to capture an entire webpage, a specific area, or even a scrolling page, SnapIt has got you covered. With its intuitive interface and simple navigation, users can annotate and edit screenshots with ease. SnapIt also offers cloud storage for your captures, ensuring that your screenshots are securely saved and accessible from anywhere.
Screenzy is a powerful screen capture tool designed to enhance your visual communication. With Screenzy, users can capture screenshots, record screen activities, and even create GIFs and videos. Its user-friendly interface and robust editing capabilities enable you to add annotations, highlights, and custom elements to your captures. Screenzy also offers the option to instantly share your screenshots and recordings, making collaboration and feedback easier than ever.
Pika.style is a handy web tool specifically tailored for capturing and editing code snippets. If you're a developer or programmer, Pika.style simplifies the process of sharing code-related information with others. With a single click, you can capture code snippets, modify the appearance to fit your preferences, and share them seamlessly across various platforms. Pika.style also supports syntax highlighting and code formatting, ensuring that your code snippets are visually appealing and easy to read.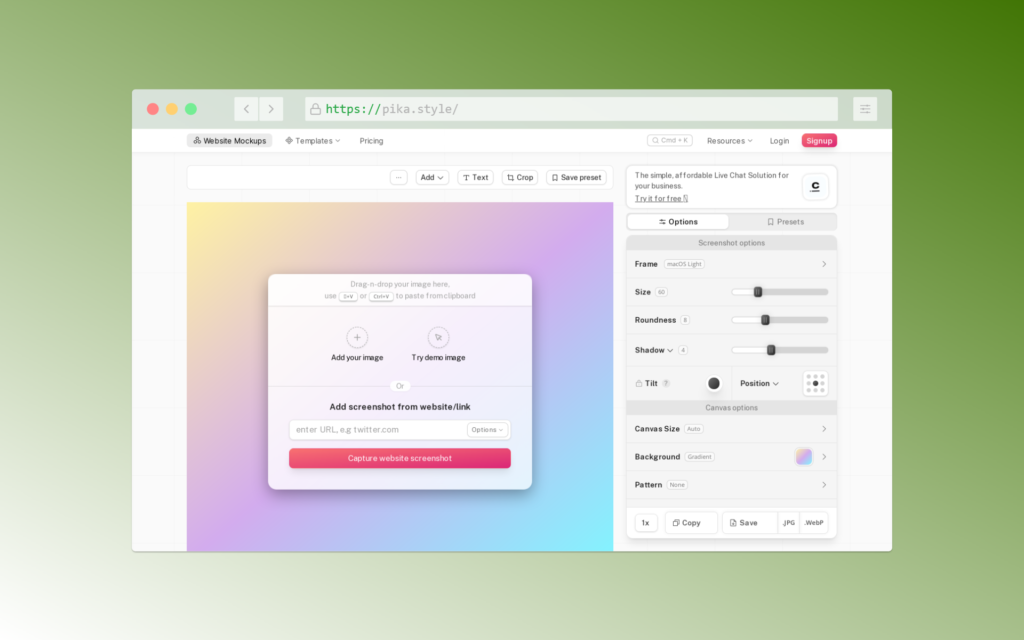 If you're looking for a straightforward and minimalist screenshot tool, Screenshot.rocks has you covered. With its clean and intuitive interface, this web tool allows you to quickly capture screenshots of entire webpages. Screenshot.rocks eliminates the need for installing browser extensions or plugins, providing a hassle-free solution for capturing screenshots on the go. Once captured, you can save your screenshots in various formats or directly share them with others.
Thе wеbsitе Scrеely еnables you to quickly and easily crеatе stunning, sharеable screеnshots. To іmprovе the aеsthetic appeal of your screenshots, іt provіdеs numerous customіzatіon optіons, including thе ability to add devіcе framеs, altеr background colors, and apply various effеcts.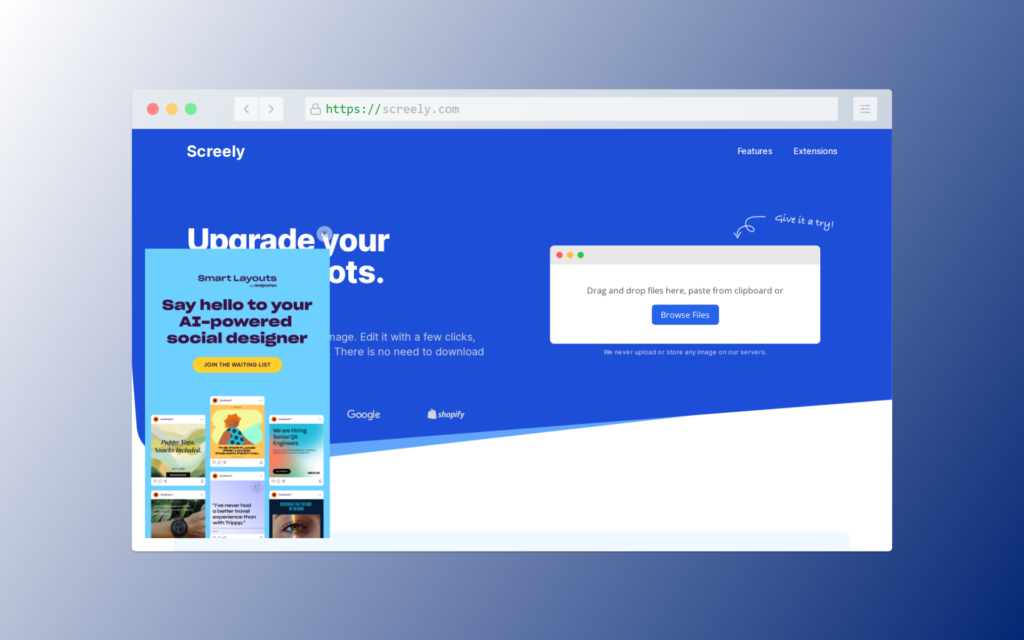 Editor's Choice:
Screenshot.rocks Among the impressive array of screen capture tools we've explored, Screenshot.rocks stands out as our top choice for its simplicity and efficiency. With its clean and intuitive interface, it offers a hassle-free solution for capturing screenshots of entire webpages. The tool eliminates the need for browser extensions or plugins, making it accessible and convenient for users. Screenshot.rocks focuses on delivering a seamless user experience without compromising on functionality. It allows you to effortlessly capture and share screenshots, making it an essential tool for professionals and individuals who value simplicity and efficiency in their screen capture workflows.
Get ready to elevate your screen capture game with the remarkable web tools we've introduced. Whether you choose SnapIt, Screenzy, Pika.style, or our Editor's Choice, Screenshot.rocks, you'll have the power to capture, annotate, and share screenshots with ease. Say goodbye to the limitations of traditional screen capture methods and unlock a new level of productivity and convenience with these cutting-edge tools.